Today I woke up ready to see what shimelle had waiting for my in my inbox. I open it up, some encouraging words about not letting the season get overwhelming and enjoy the process. Well said Shimelle. Also, for some good reads on holiday crafty sanity, check out Ali Edwards AEZine article from Nov. 21, 2007 here.



I open up my file to read the assignment and all I feel about it is, well....eh. Not so excited about it. I have a terrible memory about past anything, heck I can hardly remember what I wore yesterday, nevertheless past Christmases, but she did bring up a good point:: talk to someone else. I plan on doing this today, using my mom as a muse(i hope). And I hope to find some inspiration in her stories.



Also, I have been doing a lot of creative projects lately, a lot of hand made presents that are works in progress and today all I felt like doing was sitting down and watching the latest episode of Project Runway. And that's exactly what I did. I felt a little bit refreshed after taking some me time out, but not enough to start my day 6 page (still haven't talked to my mother yet). But I was in a semi-creative mood, so I decided to make a December calendar page for my computer desk. Simple, clean and fun. (sorry about the pic, it's from my phone, I need camera batteries bad!)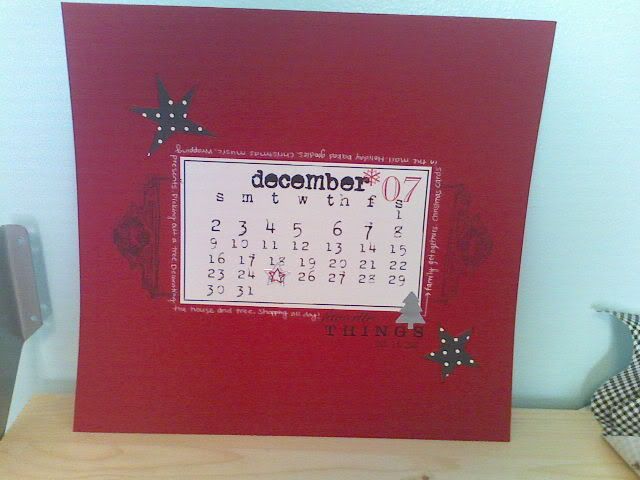 On a holiday note, Jason and I got our tree yesterday afternoon! It's actually smaller than we normally get(6'6" this year) but it's just lovely. Rearrange the whole living room to accommodate it. Pics to follow shortly.
merry merry to you and your family too